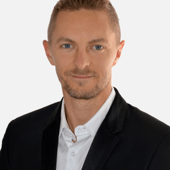 Geoffroy Fisher
Customer Service Manager – Sales & Customer service
Geoffroy Fisher joined GOLD AVENUE SA's customer service department in November 2019. 
A multilingual professional with a translator's background, he is bilingual English-French and fluent in German and Spanish. 
With more than 15 years of experience in customer relations and having worked for renowned institutions such as the European Commission and UEFA, he brings all his know-how and skills to GOLD AVENUE.